135+ transitions to relive still photos
40+ HD effect to experience HD slideshow
5 decoration tools to enrich picture story
One-click output for sharing on TV, PSP, Mobile, etc.

Latest Version:2.3 Size: 28.2MB Platform: Windows 2000,2003,XP,Vista
How to upload photos / pictures to Youtube with Photo MovieTheater?
Video Guide:
How to share photos on YouTube? First, you have to know the following aspects:
1. Still photos are not supported on YouTube.
2. FLV, MPEG-4, etc video are supported on YouTube.
3. Photos need to be converted to FLV or MPEG-4, etc. video.

If you are worrying about how to upload your favorite photos to YouTube or if you are looking for something that can help you upload your photos to YouTube. Photo MovieTheater is a good choice, I think. Within five steps, you can share your photos on Youtube all over the world.
Step one: Import your favorite photos or videos to Photo MovieTheater. Edit your photos directly by using photo trimmer or other functions like rotate, overturn photos, adjust brightness and contrast of photos as well as add special effect like Monochrome and Sepia.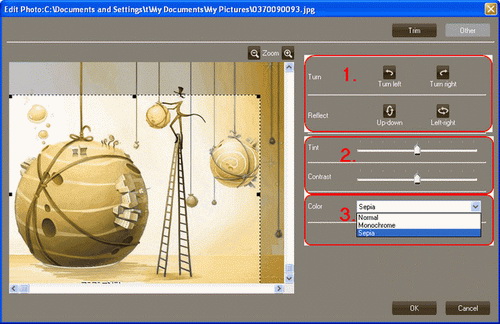 Step two: Add dynamic effects to still images. Photo MovieTheater provides array of transition styles from family to new HD style.
Step three: Decorate photos and videos with background music, caption, narration, illustration and effects.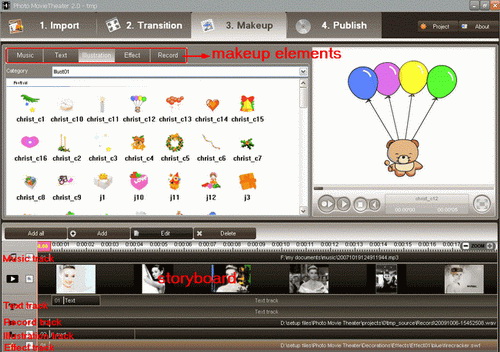 Step four: Publish the video with formats accepted by YouTube. The video files like 3GP, AVI, MOV, MPEG, FLV, MKV, etc. are all accepted by YouTube. All of them can be found in Photo MovieTheater output formats.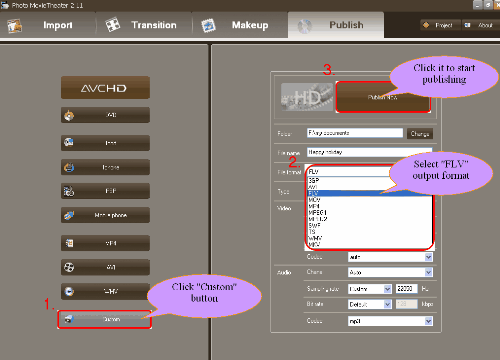 Step five:  Upload the video to YouTube.
Once you've finished editing your video, made sure it's less than 10 minutes,smaller than 2GB in size, and in an acceptable format, then go to YouTube website and you're ready to upload it.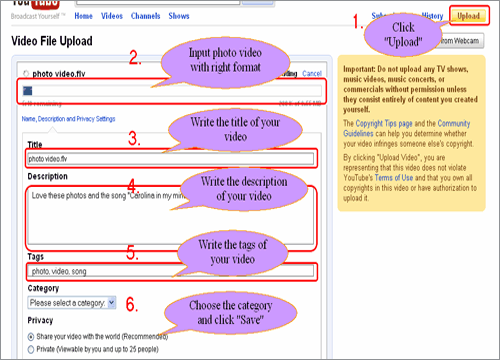 More information :
Photo MoiveTheater is an excellent choice when:
* You want to make a photo slideshow with music
* You want to create a hd video slideshow
* You want to convert pictures and video clips to blu ray movies slideshow.
* You want to share your favorite memories in an interesting and portable way
* You want to Burn and present on PC, PSP, iPhone, Xbox and more...
* You want to get a program that designed to be easy and intuitive to use.
Photo Slideshow Maker Key Features:
*Powerful photo/video editor intergrated makes it easy to edit your photos and videos
*Intuitive interface and very easy to use.
*Instant slide enhancements with various transition effects
*Real-time preview of entire DVD photo slideshow.
*Supports almost popular image formats and all-round video formats
*Supports HD video formats and blu ray movie formats
*Share video profiles for all popular portable devices, e.g. iPhone, iPod, PSP, etc