Want to create an elegant picture slideshow of Christmas? Or capture the excitement of a big party to share with friends? Or even want to make a wonderful HD video slideshow to record your precious occasions? Now, you can do all these and get more with Photo MovieTheater!

What can Photo MovieTheater do?
Let you experience unparalleled easy and intuitive making process.
Provide various transition styles to enhance your photo slideshow free and creatively.
Enable to customize decoration effects like background music, text, illustration and record.
Support more than 40 output formats including AVCHD H264, AVCHD Mpeg-2, DVD, MOV Mpeg4, and numerous devices like PS3, Apple TV, Ipone, Xbox etc.
Download Photo MovieTheater

Buy a full licence of Photo MovieTheater to start now!
This tutorial is mainly about how to make an entertaining HD video slideshow complete with photos and music for playback on most popular HD multimedia devices like PS3, PSP, Xbox, Apple TV at home or on the go. You can also upload the slideshow to website like YouTube to share with your friends.

Really easy, just 4 steps : Import-Transition-Makeup-Publish
Make HD video slidehsow: Step 1
Import video clips and photos and then drag-and-drop them to the storyboard.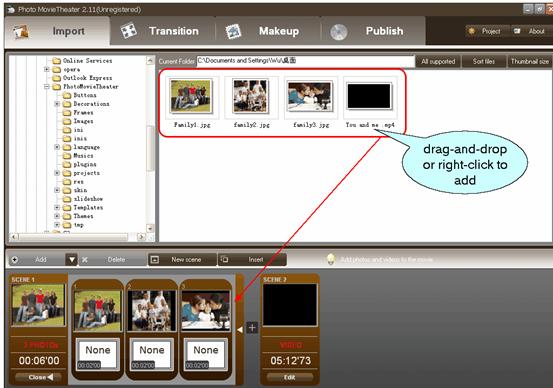 Supported input formats:
Phtos: *bmp, *.gif, *.jpg, * .jpeg, * .png, * .tif, *.tiff etc.
Video:*avi,*.wmv,*.mpg, *.mpeg, *.mp4, * .mov, * .flv, * .swf, * .3gp, *3gp2,*.3gpp,* .3g2,* .qt, * .fli, * .flc, *.asf, *.ts, *.ogm, * .mkv, *.m4v, * .m1v
If required, you can double-click video clips or photos to edit the relative parameters.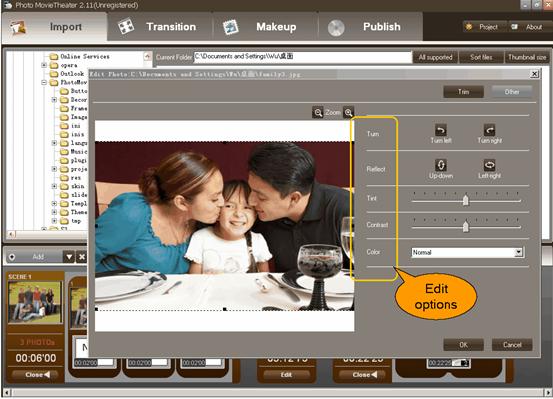 HD video slideshow: Step 2
Enhance your photo video slideshow with transition styles
Preview animated styles first and then drag and drop your selected styles to the Storyboard.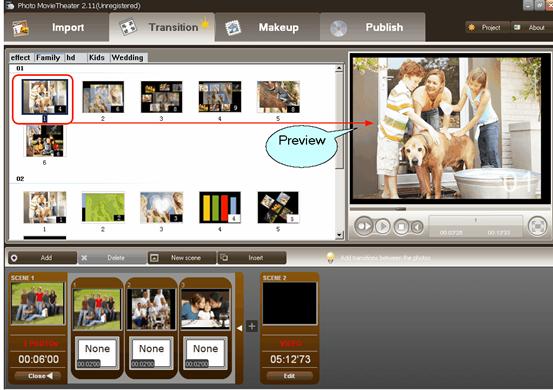 Various transition styles bring your photos to life. Photo MovieTheater provides array of built-in transition styles like wedding, kids, family and so on to add visual impact between photos.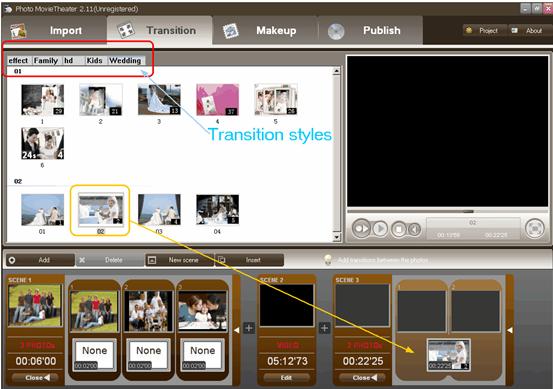 HD video slideshow: Step 3
Decoration
Add decoration to make your photo video slideshow more lively. Here you can add background music, customized text caption with different text effects, stunning illustration, animated effect and record to your photo video slideshow.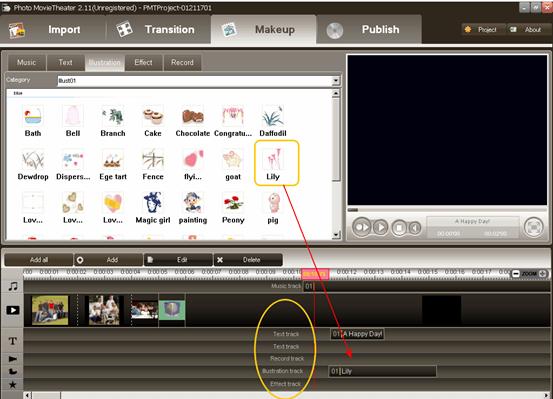 In order to get better effect, you can also click "Edit" to adjust text parameters.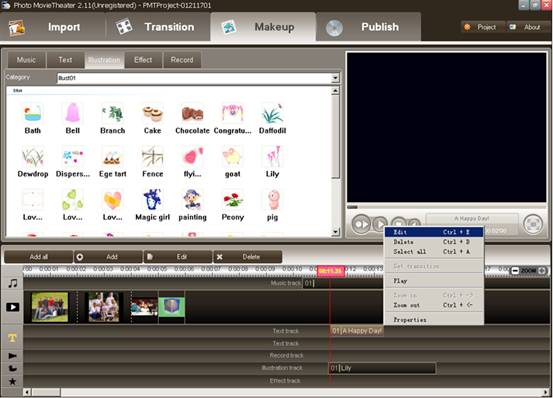 HD video slideshow: Step 4
Select output format and publish your photo video slideshow.
At last, you are just required to select an output format. Then you can upload your slideshow to YouTube or post it to your blog. Besides, you can also burn it to DVD to share it on TV, PSP, Xbox or other portable devices.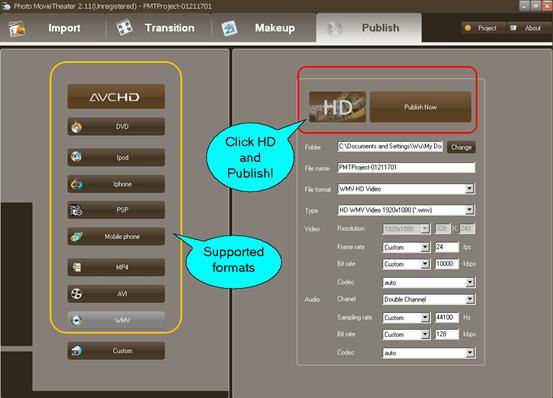 Hot Links:
Photo MovieTheater: The Best Photo Slideshow and HD Moive Creator Software
Total Video Converter: The Professional HD Blu-ray Moive and Video Converter