How to convert video to html5 webM on Mac?
If you are not clear about webM video format, if you are in search of a video converter to convert your video(flv, mp4, mov, mkv, wmv) to webM, this article will be what you are searching for.
What's webM?
WebM is the new media-container format announced by Google during the Google I/O conference.
WebM is designed to be the prominent and de-facto video standard in the near future and is an attempt to arrive at an open and royalty-free standard video format that is supported across the board without requiring a plug-in. Since Google owns YouTube, which hosts perhaps more than half of the most used videos on the web, this goal is realistic.
How to convert video(flv, mp4, mov, mkv, wmv) to webM on Mac?

Step 1: Lauch Total Video Converter for Mac and load the video
Click the "Add" button or directly drag&drop the video(s) from explorer. Then you can see your videos like below with checked tags. All checked videos will be converted to webM.
Tips: If you want to preview video, just double-click the video, and embedded Total Video Player will pop out to play the video.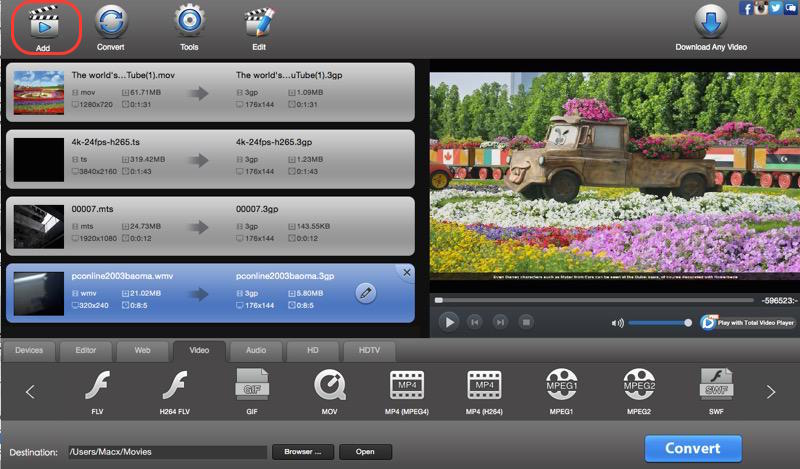 Step 2: Select output format.
As shown below, to convert video to webM on Mac, select "HTML5 WebM Video".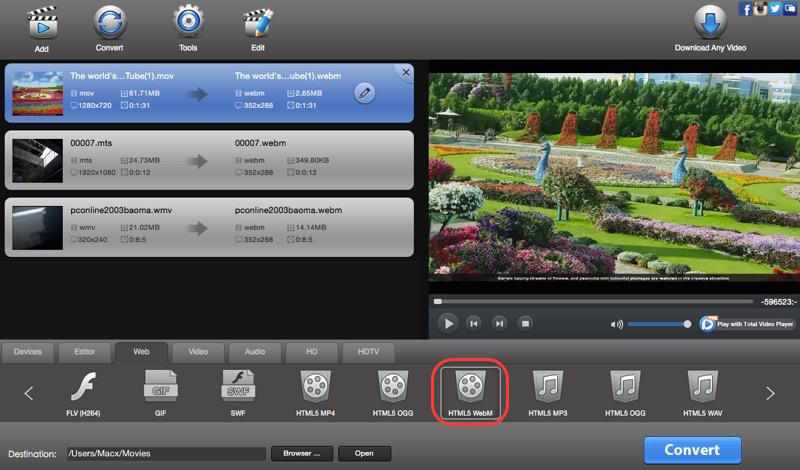 Step 3: Start converting video to webM
Finally, click the "Convert" button. A few minutes later, the converted webM video will pop out to you.

How to embed WebM files on Webpages after video to webM conversion?
WebM video can be embedded using the HTML5 <video> tag. tag conforming to HTML5 standard. Reference:
<video width="400" height="300">
<source src="/videos/examples.webm" type="video/x-webm"></source>
</video>


Download Total Video Converter for Mac
More related topics: