How to convert Youtube(FLV) video to mp4, flv, mov on Mac?

When will you need this FLV video converter for Mac?
1. Found some funny videos from YouTube or Yahoo! video and want to share them with iPad, iPhone, PSP, PS3, xBox360? Or got some ideas to edit them and create your own movie with iMovie? But Mac built-in players and editors could not recognize FLV video directly.
2. Want to convert your HD video, camcorder video, mp4, avi to flv then upload them to Youtube.

FlV video converter for Mac not only convert flv to mp4, flv, mov, 3gp, webM, AVCHD, HD 264, but convert mp4, mov, flv, 3gp, AVCHD, HD video to flv which can be directly uploaded to Youtube


This guide will show you very easy step to convert flv videos on Mac.

Preparation: Download Total Video Converter for Mac here

Step 1: Lauch Total Video Converter for Mac and load the video
Click "Add" button or drag&drop all your Youtube(FLV) videos to this FLV video converter for Mac . You will get below file list.
Double-click any of the imported videos, embedded Total Video Player will play the video for you.

Step 2: Select desired video format.
To share or edit Youtube video, you can select avi, mp4, mov, 3gp, and there we select "MOV".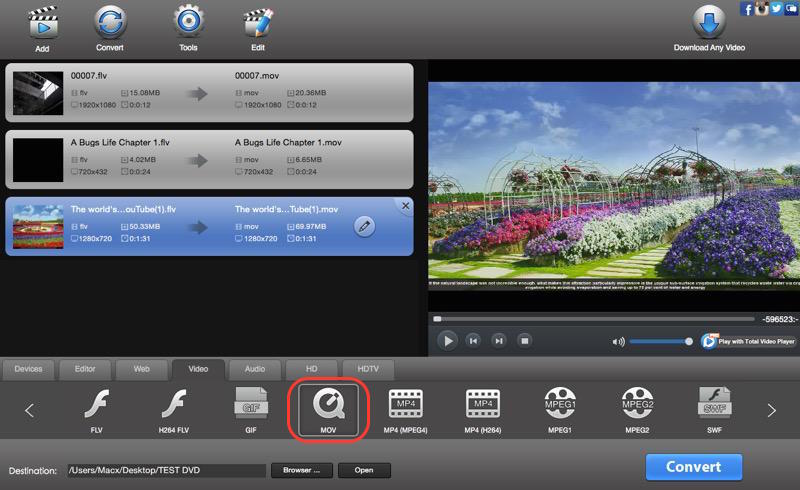 Step 3: Start the FLV video conversion
The last step, click the "Convert" button to convert FLV video for Mac. A few minutes later, the destination folder will open and highlight your desired output video when the conversion is completed.

What's FLV?
Flash Video (FLV) is a file format used to deliver video over the Internet using Adobe Flash Player (initially produced by Macromedia) versions 6–10. Until version 9 update 2 of the Flash Player, Flash Video referred to a proprietary file format, having the extension FLV. Notable users of the Flash Video format include YouTube, Google Video, Yahoo! Video, Reuters.com, metacafe, and many other news providers.

Download Total Video Converter for Mac
More related topics: